NJF Conference 2020: Sustainable Development of Future Academia in Sweden
EVENT
Date:
12 November 2020, 1.00 PM
-
13 November 2020, 1.00 PM
Venue:
Webinar
Welcome to Sweden's first National Junior Faculty Conference. The discussions will be about how to protect high quality research, innovation, education and academic freedom.
Welcome to Sweden's First NJF Conference, which will take place virtually on Nov 12-13 2020.
A great lineup of invited speakers from Sweden and Europe are joining, including:
Jean-Pierre Bourguignon

, President of the European Research Council

Pam Fredman

, President of the International Association of Universities

Tobias Krantz

, Investigator, Sweden's National Research Infrastructure

Maria Thuveson

, Director of the Swedish Research Council (VR)

Michelle King

, A leading Global Expert and Director of Inclusion at Netflix
The conference begins on Thursday, Nov 12th at 13:00 CET and runs through Friday, Nov 13th noon. For more details click here and you can easily register here. Attendance is free of charge, but you need to register as soon as possible - spots will be allocated on a first come-first-served basis.
Can I join any session?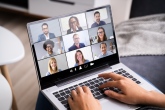 Yes, you can engage with the speakers and join all of the sessions that interest you. There will be interactive breakout rooms and social event plus e-beer for our research community across Sweden and Europe!
Also, there is a community page to connect and chat to each other during and after the conference, so don't miss this great opportunity and claim your seat now.
#NJFconference2020
Last updated: May 17, 2021
Page editor: Lina Enell
Source: SU-YF