2000 pupils take part at the 'Living Question Box'
In May every year about 2000 fifth grade secondary school pupils take part in 'Levande Frågelådan' (the Living Question Box) in the Aula Magna.
Before the pupils come to the university a school tour is arranged where all the classes are visited, almost 50 school classes, from Norrtälje in the north to Södertälje in the south. After the tour the pupils send in natural science questions. Some of these questions are picked out and answered by our research scientists when all the pupils visit the univerity.
When the doors to the Aula Magna open and the pupils start to fill up the noise level is usually deafening, but as soon as the scientists are presented you can hear a pin drop.

"Where do mountains come from?" "Can you become allergic to water?" were questions answered by the scientists last year. After each of them had presented their answers, the stage is taken over by a show. Then there are new presentations by the research scientists, usually followed by a Q&A session.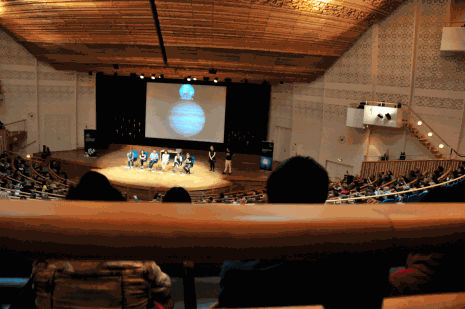 Is it possible to stand on a gasplanet? Photo Bo Enell
Last updated: November 9, 2020
Page editor: Per Nordström
Source: Per Nordström

Science news published by Stockholm University