A word from the Dean, May
Dear all! I am afraid that there has been a while since I communicated with the academic area and faculty through Faculty News and "Some Words from the Dean". Let me then begin right away.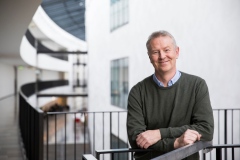 A lot is going on within the faculty and at the university. In addition, there are discussions of changes within the higher education sector in Sweden, which is likely to lead to new ways to distribute part of the governmental funding for research and researcher education. At this moment in time, we are however facing far more serious issues than these. There is a very bad situation with the war in Ukraine. This has catastrophic and tragic consequences for the people there and it will have a worldwide impact for a long time to come. Many of us have colleagues in and from Ukraine and many efforts are made in order for at least some of them to be able to continue their work in Sweden and at Stockholm University. This is good but only a small comfort in the wider perspective.
Economy in balance
For some time now, our faculty has been working towards economy in balance. The Deputy Vice Presidents, "Vicerektorerna" in Swedish, and the University Director have somewhat different assignments related to this goal. Within the two disciplinary research domains, the Science Academic Area and the Human Science Academic Area, we work towards balance between expenses and income on a yearly basis and towards a positive saved agency capital. The latter means that we should have saved governmental funding corresponding to a few per cent of the yearly turnover. The overall goal is that the university as a whole, including both science areas and the central university administration, should have an economy in balance and saved governmental capital of about 5-10% of the annual turnover by 2023 at the latest. The departments and our four centra directly under the faculty have worked hard and successfully towards these goals, but this has also meant that they have had to hold back on recruitments and investments. The primary actions taken have been to limit recruitment of new teaching staff, to refrain from financing post-docs from government funding, to limit financing of doctoral student appointments from government funding and to use external grants for operation and maintenance to a greater extent than before. We have also decreased office and lab space and increased external grant funding of indirect costs when this has been agreed on as reasonable.
The measures taken so far have been effective and contributed to a surplus of a little more than SEK 79 million for the faculty as a whole in 2021 (the corresponding number was SEK 33 million in 2020). Through this, the faculty has reached an accumulated governmental capital ("sparade anslagsmedel") of approximately SEK 190 million after 2021, and has around SEK 650 million in saved external grant funding. This should be seen in the context of an annual turnover of almost SEK 2.5 billion (the turnover includes used grant funding of almost SEK 1.2 million in 2021). We have had a very positive trend in our ability to attract external funding in recent years. The year before the pandemic, 2019, we used SEK 1000 million of external grant funding, while the corresponding amount was SEK 1172 million in 2021 – even though this was during the pandemic. In addition, accumulated grant funding increased during the same period. The situation concerning external grants looks rather promising as we expect substantial income via two very large national projects financed by Knut and Alice Wallenberg's foundation, KAW, in the years to come. These are the programmes Data Driven Life Science, DDLS, and WISE ("Wallenberg Initiative Material Science for Sustainability"), where we recruit two assistant professors for each of them. The four assistant professors in turn will recruit two doctoral students and two (two-year long) post-docs each, funded mainly through the KAW programmes. Additional resources in the form of doctoral student and post-doc positions will also be advertised and funded through these two KAW programmes. Preliminary information about how to apply for doctoral student and post-doc projects within WISE has recently been distributed to the 14 departments and 4 centers within the Faculty of Science.
From these positive remarks it may seem that the purpose of the economy-in-balance project has already been fulfilled. Well, we are not quite there yet. The total number of doctoral students at the faculty has decreased as a consequence of financial limitations. Furthermore, it seems that we will have to adjust to new and much higher levels of rental costs for the foreseeable future. Soon, the need to recruit new teaching- and research staff, PhD-students and other personnel will become urgent. The incomes from the KAW programme mentioned above, as well as from other external funding will be helpful here, but this funding source will not be available to all our department and centers.
Faculty meeting with Heads of Department and Directors
The Academic Area Board (områdesnämnden) has appointed a working group with the task to analyse and discuss the distribution of the governmental funding for research and researcher education to our 14 departments and 4 centers. As a preparation for this work, the faculty leadership arranged a two-day meeting for initial discussions with the heads and departments and directors at Tovetorp - one of our research stations. The meeting was highly successful and provided very useful input and recommendations for the continued work.
Generous donation
By the time this text is published, you have probably already heard that the Department of Mathematics has received a very generous donation of SEK 100 million. It has been donated by Sverker Lerheden, who began his university studies with one year of mathematics at SU before moving on to the civil engineering programme at KTH and later to a highly successful career as an engineer, company manager and entrepreneur mainly in the building and property industry. In his speech, at the lunch at which this and three other donations were made public, Sverker Lerheden emphasised how much use he has had of his mathematical skills throughout his career. This is indeed very encouraging to hear! The returns from the Sverker Lerheden fund, will be used for postdoc stipends at the Department of Mathematics, SU. The Department head, Joanna Tyrcha, the Section Dean Tom Britton and President Astrid Söderbergh Widding gave speeches at the lunch and in different ways they expressed how grateful they are for the generous donation and how important it will be for the development of the research in Mathematics, Mathematical Statistics, and Computational Mathematics at SU and in Sweden.
Profile areas
Concerning the forthcoming profile area announcement, where the new way to distribute the part of the governmental funding for research and researcher education that is based on performance will be implemented, it now appears that each higher educational institution (HEI) will be able to submit only one application. This was at least my impression from the digital dialogue meeting with the government research councils, and the HEI:s, which was organised at the beginning of April. It also appears that it will be up to the universities to decide whether to have several sub-profiles in such an application or a single-profile proposal. Personally, I welcome the proposal for one application per university and I also believe that a single-theme application would be the best in our case. The latter would make the internal discussions within departments, faculties and the entire university easier. In a single-theme broad application, we will also be able to express joint overall goals to which a range of departments and centers within several faculties would be welcome to contribute. It will be important for the profile area application to show how we, by working together, can address new scientific challenges in new ways and how this can advance the knowledge in areas of importance to society. The significance of such advancements was frequently emphasised by the councils during the dialogue meeting in April. I think that it perhaps could be useful to use the heading for one of the university's 16 already existing profile areas, but to widen the content over department, faculty and academic area boundaries. The point here is that all sixteen profile areas are equally important, but that some of them may be better suited for this particular announcement where the interaction with society most likely will be much more important than for traditional research-grant applications. We will know more about this after June 1st when the government research councils, after consultation with SUHF (Association of Swedish Higher Education Institutions), will present their joint proposal to the Ministry of Education and Research.
Visit by the Minister for Education
Finally, I would like to mention the Minister for Education's visit to Stockholm University that started in building 2 in Albano on April 22nd. The Minister, Anna Ekström, communicated before the meeting that she was particularly interested in learning more about our research on climate- and environmental issues and she also asked us to avoid lengthy PowerPoint presentations. We couldn't quite live up to the second request, but I think we were forgiven after a session with three very engaged and well-focused presentations on: i, language and power in relation to the war in Ukraine by Sanna Witt from the Faculty of Humanities, ii, climate research and atmospheric science by Ilona Riipinen representing the Bolin Centre, and iii, glacier research in the Arctic with the icebreaker Oden by Martin Jacobsson from the Section for Earth and Environmental Science. All three presentations lead to many questions and interesting discussions. The visit concluded with a walk over to the AlbaNova building and a look through AlbaNova's telescope, where Jesper Sollerman presented the field of astronomy and astrophysics in an enthusiastic, entertaining and highly appreciated way.
Henrik Cederquist
Last updated: September 16, 2022
Page editor: Lina Enell
Source: Faculty of Science

Science news published by Stockholm University