A word from the Dean, September 2021
With September now beginning to draw to a close, we can, in line with the Public Health Agency of Sweden's recommendations, return to conducting on-campus teaching, research and other work.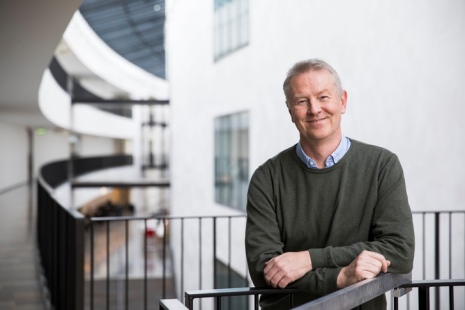 There are many of us who, throughout the pandemic and the restrictions it has brought, have missed spontaneous meetings and discussions with students and colleagues. I believe that, in the long term, working primarily digitally limits, in both research and teaching, creativity and the development of new ideas. At the same time and in many connections, the possibility of digital meetings is a positive. One particular advantage is that, in various collaborations, short national and international meetings will now, more often than before, be online. This is also in tune with Stockholm University's climate roadmap. Additionally, compared with before the pandemic, it is likely that many of us will be spending fewer working hours physically in our offices. Thus, in the long run, we will probably not need the same amount of traditional office space per employee and may then work in a way that uses premises more efficiently. The major rent increases we are now experiencing are also a powerful financial motivator for any such change. I know that many heads of departments, and the departments/equivalents themselves, are already discussing how to reduce their leased areas. For such developments to have the maximum possible impact on rent costs, consideration should also be given to collaborating with other departments in the relevant area and SU at large so that lease terminations enable the university to give up entire buildings. The university's disciplinary research domains and administration agree that such changes are desirable provided that they do not limit our research or teaching or, in the long term, their development potential. Our science and human sciences areas have appointed working groups to discuss and monitor issues regarding the streamlining of premises. Our own working group is led by Lena Mäler (deputy dean) and further comprises one head of department from each of our four sections.
Presented last week, the government's budget bill informed us that the implementation of a profile area application procedure for allocation of performance-based funding to research and third-cycle courses and study programmes (so called FUF funds) at the country's higher education institutions will probably not be introduced before 2024, instead of the previously announced 2023. Naturally, this is a great relief. It gives us a little more time for planning Stockholm University's profile area applications. The general assessment of the Association of Swedish Higher Education Institutions (SUHF) and others is that the reform will be implemented, albeit with a probable delay of one year. Hence, we need to be prepared for this and are continuing to work with the issue. The area board has asked the working group previously dealing with the issue (i.e. the working committee reinforced by four vice deans of section) to continue its efforts and to report the results of these to the board no later than January 2022. Guided by this previous group's work and subsequent discussions in the working committee, I have drawn up a proposal with six possible outline headings that could, preliminarily, serve as profile areas for Stockholm University. In the draft call for proposals that the state research councils developed under the guidance of the Swedish Research Council (VR), it is proposed that, depending on size, higher education institutions should be able to submit up to five profile area applications and they should be able to receive flat-rate financing that has a ceiling of SEK 20 million per year over six years. I have previously said that I and, I believe, the faculty and university senior management teams as a whole prefer the present system of using performance (success in attracting external backing, bibliometrics, etc.) as a basis for allocating a part of national research funding. Nonetheless, if we now believe that the reform will be implemented, we should continue driving our profiling work forward. It is important to point out that there are still major opportunities for influencing the proposals. The six preliminary proposals are, naturally enough, based on the, in total, 18 distinct proposals developed via the working group's initial efforts and in collaboration with sections and departments/equivalents. However, such drafting can, of course, be done in different ways that may result in various profile area headings. So, this work is continuing and there is still plenty of time to make changes. Yet, one of the proposals has a particular position. Its title is: "Climate, Seas and the Environment: Future scenarios and Extremes". This proposal has attracted great support in all the contexts where it has so far been discussed, e.g. at the area board's meeting of 09 09 2021. My idea is that, for each strongly supported heading, we should appoint a small group of two to three people who can convene sessions to further specify: proposal content; the area's envisaged development possibilities; the added value that collaborations between the various constituent operations can bring; and, how an annual budget of SEK 20 million over six years could best be used for the area. We shall, of course, bear in mind that our area will not be able to submit five applications of its own. Rather, we will have to collaborate with Human Sciences. The latter will also have a number of its own very strong proposals in its disciplines.
The work we carry out here will, additionally, be of use for future calls in respect of awards of excellence for research environments by e.g. the Swedish Research Council. These can be much more focused than the profile areas and, here too, I do not see any challenges in formulating projects that are purely basic science. As far as I understand it, these calls for proposals will be for research environments that, to some extent, resemble the earlier Linné environments, albeit with a lower level of financing per grant.

Henrik Cederquist

Last updated: September 28, 2021
Page editor: Lina Enell
Source: Faculty of Science

Science news published by Stockholm University