Global Swede Award to biology student
Kanwal Tariq, master's student at the Department of Biology Education at Stockholm University, is one of the students to receive this year's Global Swede Award, an award honouring international students who excel in areas closely related to innovation and entrepreneurship. They have also shown that they are good representatives of their own country as well as Sweden.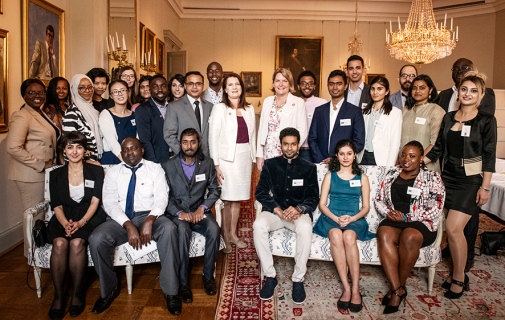 On Tuesday 21 May, the Ministry for Foreign Affairs, in cooperation with the Swedish Institute organised the Global Swede ceremony for the ninth consecutive year. Ann Linde, Minister for Foreign Trade, Mikaela Fredriksén Tollin, Acting Director-General of the Swedish Institute and Gabriella Augustsson from the Department for Trade Promotion Nation Branding and CSR, Ministry for Foreign Affairs, participated in the ceremony honouring 26 international university students currently studying in Sweden.
"The Global Swede Award is a way to say thank you to some of our most innovative international students. Students from other countries play an important part in our international relations and I hope that the award can encourage further exchange and relations with Sweden", Ann Linde said.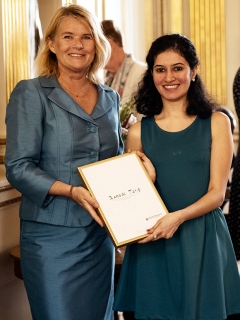 "Two fulfilling years"
Kanwal Tariq from Pakistan is enrolled at Stockholm University's master's programme in Molecular Life Sciences, she explains why she wanted to study in Sweden:
"I admire Sweden for its culture of openness and innovation. It also helped that the country tops in life sciences education. Thanks to a generous scholarship from Stockholm University, I was able to experience it first-hand", she says.
"These last two years have been very fulfilling, especially because of all the great friends and mentors that I have had the pleasure to meet and work with. It's an honour to be recognized with this award."
Karin Helmersson Bergmark, Senior Advisor on International Affairs to the President of Stockholm University, participated in the ceremony:
"We live in a globalized world and it is difficult to imagine a large and modern university without global influences, including influences from our international students. They are also important as alumni and Stockholm University ambassadors when they return to their own countries.
The Global Swede initiative
The Swedish Institute is a government agency that promotes interest and confidence in Sweden around the world. Attracting foreign talent is a key objective.
The Global Swede initiative is Sweden's way to honour young international students in Sweden who are outstanding in their field, and to stay in contact them in their future endeavours. Global Swede alumni are part of a broad alumni network, administered by the Swedish Institute which today comprises about 15,000 people from 140 different countries.
Last updated: June 3, 2019
Page editor: Per Nordström
Source: Per Nordström

Science news published by Stockholm University