Johan Rockström awarded the French distinction Knight of the Legion of Honour
Centre director Johan Rockström has been awarded the highest French order for military and civil merits for his commitment to a better environment and climate.
The National Order of the Legion of Honour (French: Ordre national de la Légion d'honneur) was established by Napoléon Bonaparte more than two centuries ago in order to reward special efforts to serve the French nation, and "foreign citizens who have distinguished themselves by the services they have rendered to France".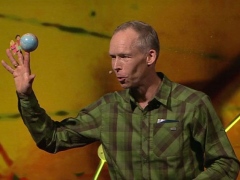 The Legion of Honour was awarded to Johan Rockström, during a reception at the French Ambassador's residence in Stockholm, 15 December, by Ambassador Jacques Lapouge. Lapouge has been the French Ambassador to Sweden since 2014. He was Ambassador for climate change negotiations from January 2013 until the summer 2014.
Read more about the award on Stockholm Resilience Center's homepage
Last updated: February 1, 2017
Page editor: Per Nordström
Source: Per Nordström

Science news published by Stockholm University