Physics event in Kungsträdgården drew crowds
Last Saturday, the physics event "Fysik i Kungsan" took place in Kungsträdgården. This year, the event celebrates its 10th anniversary. It was a fitting anniversary. The sun was shining from a clear blue late summer sky, and some exhibits had long queues of interested locals.
If you "take the pulse" of physics and astronomy, it feels as if the interest has seen a general upswing in recent years, something which was clearly noticeable last Saturday. Science shows, CERN, the Higgs boson, the discovery of planets in other solar systems, etc., probably contribute to people of all ages wanting to know more.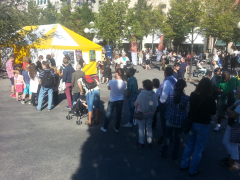 Many people wanted to look at the sun. Photo: Per Nordström
Inside the tents, you could to meet researchers and ask questions, participate in experiments, and listen to exciting lectures. There was a long queue to Magnus Näslund's solar telescope, through which you could look straight into the sun and see the solar prominences, which are hot, gaseous flames ejected into space from the surface of the sun.
On the small stage, Sören Holst talked about thought experiments and what it would look like if you could travel at the speed of light next to a light wave.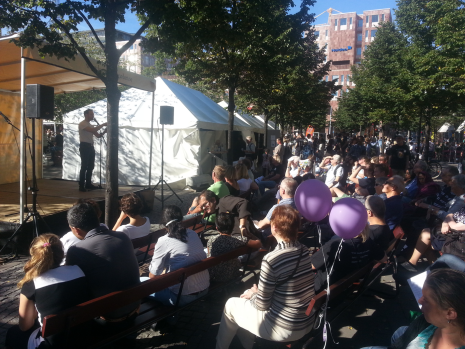 Sören Holst talks about thought experiments in physics. Photo: Per Nordström
Last updated: September 26, 2013
Page editor: Per Nordström
Source: Per Nordström

Science news published by Stockholm University