Professor Svante Björck has been elected Fellow of AAAS 2017
Svante Björck has been awarded The American Association for the Advancement of Sciences (AAAS) Fellow 2017. Svante is a guestprofessor at the Department of Geological Sciences at Stockholm University.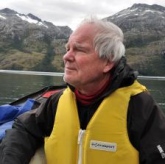 The American Association for the Advancement of Science (AAAS) has awarded the distinction of Fellow to 396 of its members this year. These individuals have been elevated to this rank because of their efforts toward advancing science applications that are deemed scientifically or socially distinguished.
Svante Björck (Section on Geology & Geography)- For distinguished contributions reconstructing Quaternary environments in the northern and southern hemispheres, and for leadership in the international community of Quaternary geoscientists.
New Fellows will be presented with an official certificate and a gold and blue (representing science and engineering, respectively) rosette pin on Saturday, 17 February, at the AAAS Fellows Forum during the 2018 AAAS Annual Meeting in Austin, Texas.
Last updated: November 21, 2017
Page editor: Per Nordström
Source: Per Nordström

Science news published by Stockholm University