Professors with a drive to explore and problem solve
Looking back for highlights of 2017, Department of Ecology, Environment and Plant Sciences (DEEP) had the honor to have Professor Monika Winder, Professor Clare Bradshaw and Professor Catarina Rydin to be celebrated in the inauguration for professors in Stockholm City Hall. In light of the glass ceiling for women in academia, DEEP really wanted to highlight their achievement in an interview.
Exploration - a common driving force
To have reached this far in academia, a lot of determination is required. What drives the three newly inaugurated professors?
- How, why, when, where; new questions appear in my head all the time and I cannot leave them alone; I have to find out, says Catarina Rydin.
Monika Winder agrees and says she enjoys the freedom of pursuing own ideas. Clare Bradshaw comments:
- Research allows you to be curious, learn new things, and solve practical and intellectual problems. I like all that.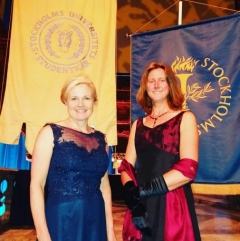 Clare Bradshaw also thought that research could be a way that she could make a difference to the deteriorating state of the oceans.
Hard work and specific requirements to become professor
The promotion process is clear and straightforward at Stockholm University. When you believe you fulfill the requirements you apply for promotion. The application goes through a series of internal and external evaluation steps before a decision is made.
- It takes some years to collect sufficient merits of course. Looking back, it has been great fun. And lots of hard work, says Catarina Rydin.
Monika Winder has done research in many different places before she became a professor; Austria were she did her PhD, Switzerland, USA, Germany and finally Sweden. Clare Bradshaw explains that it has been a long and uncertain road. Clare's career has been a series of externally funded projects since her PhD in 1997 until last year when she finally got a permanent position as a Senior Lecturer at DEEP. Clare then applied to be promoted to professor:
- I've been ready to give up on the research world several times. Without a doubt, the biggest challenge has been getting funding; this has meant that it has often been hard to build up a research group and make longer term research plans.
The professorship - means to an end
When I ask them if it was always on their minds to become professors, all of them say no. It was not even obvious for Clare Bradshaw to pursue an academic career:
- I probably first considered it half way through my PhD, but even then I wasn't 100% set on research as a career.
Monika Winder says she did not plan to become a professor, even though it may look like it:
- I had the privilege to work with great people, see different leadership styles and cultures. As a postdoc I realized that a professorship would be wonderful work as this would allow me to do what I love to do, to combine research and teaching, says Monika Winder.
Clare Bradshaw chimes in:
- I've always been more focused on doing interesting science than becoming a professor!
Not so often you are recognized for achievements in academia
The three of them are really happy that they were invited to the City Hall for the ceremony this year.
Monika Winder says she is very grateful and honored to get the promotion to professor at Stockholm University – to get the opportunity to do what she loves to do. Clare Bradshaw exclaims:
- It feels good! I'm proud that I've got this far! I think it's great that SU has this ceremony and dinner. It's nice to celebrate and be recognized for your achievements - it doesn't happen that often in academia, unfortunately.
Tips for everyone pursuing an academic career
Have the courage to be strategic; set up clear plans for your career! Do not be afraid to fail. You do not fail, you revise your plan!
See possibilities, not problems.
Remember that it is possible to combine a scientific career with family and children.
Do good work, work hard and enjoy your work.
Have confidence in your work and achievements.
Expand your network and collaborate with others - you'll expand your horizons and get new ideas.
Most importantly - do good science!
Take opportunities when they appear - you'll get involved in all kinds of projects you might never have thought of.
Stick up for your own ideas and believe in yourself!
Text: Amanda González-Bengtsson
Last updated: January 25, 2018
Page editor: Per Nordström
Source: Per Nordström

Science news published by Stockholm University