Research expedition to the Russian Arctic
The research expedition to the De Long Islands in the Russian Arctic is the final piece in a research project that examines the tectonic evolution of the amerasiska basin. The expedition complements previous research expeditions to the Taimyr Peninsula in Russia and to Ellesmere Island in Canada.
The Arctic Ocean consists of two deep basins. Understanding how these are formed is important because it has affected the tectonic evolution of the surrounding continental shelves and the global ocean circulation, which has a major impact on the global climate.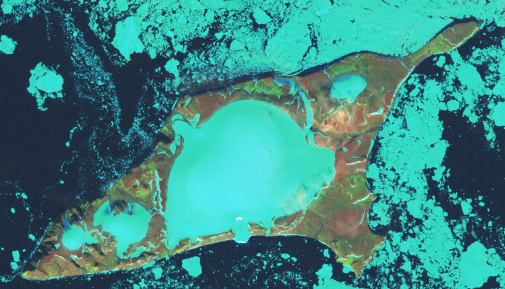 Bennet Island surrounded by pack ice. Photo NASA
Something that has played an important role in many aspects of the Earth's development are Large Igneous Provinces (LIPs). These are deposits of igneous rocks with impressive dimensions, some cover thousands of square kilometers and are hundred of meters thick. Every LIP is connected to a hotspot – stationary regions where hot plumes of material are upwelling in the mantle of earth. LIPs formation occurs apparently as sudden as mass extinctions and are huge events releasing gigantic amounts of lava, ashes and gases into the atmosphere in geological short periods (only some million years). These gases and aerosols can affect the climate of earth which would explain the effects on terrestrial ecosystems and also modify the chemistry of the oceans which would explain the disastrous effects on marine ecosystems.
Bennett Island is the biggest island among the De Long Islands
The expedition to the De Long Islands in Arctic Russia will attempt to sample High Arctic Large Igneous Provence (HALIP) basalts of supposedly Creataceous age on Bennett Island and to correlate them with other Arctic occurrences via element and isotope geochemistry.
The De Long Islands are located off the northeastern coast of Siberia in the Arctic Ocean and is an inaccessible part of the Arctic that are rarely visited. To get there the expedition will leave the town of Tiksi September 1 together with with AP Karpinsky of the Russian Geological Research Institute. The ship will during to two weeks visit Bennet Island, Henrietta Island and Zjochov Island.
Research leader is Victoria Pease, Department of Geological Sciences, Stockholm University.
Prof. Christian Tegner (Arhus), Sigmund Andersen (Sysselmannen), Prof. Victoria Pease (PI, Stockholm University), Andreas Bergstrom (Climber & Expedition Manager), Mikael Grumstedt (Climber & Physician).
Last updated: September 6, 2013
Page editor: Per Nordström
Source: Per Nordström

Science news published by Stockholm University