Solves major problems in life's small building blocks
Xiaodong Zou is a real problem solver – she develops methods for exploring the world at the atomic level. However becoming a Professor at Stockholm University was not something she could have ever imagined as she grew up in China and saw her future destined to be a farmer.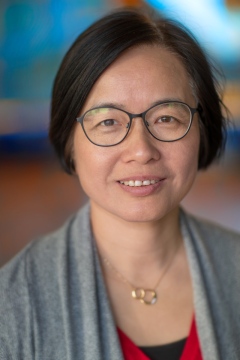 When Xiaodong Zou moved to Stockholm, she purchased an old used vacuum cleaner. It was in such a condition that she thought to herself, well, 'it will last for about three years, so will be sufficient enough for her stay in Sweden.' That was back in 1987. At the time, she was a promising young physicist in the field of electron microscopy and when a Swedish chemist was looking for a PhD student she was recommended by one of China's leading researchers in the field. Some three decades later, Xiaodong Zou is still in Stockholm, married Sven Hovmöller (her former academic supervisor), and she is a prominent chemist having published over 300 scientific articles and holds five patents.
New methods for imaging 3D
Xiaodong Zou built up the Berzelii Centre EXSELENT on Porous Materials at Stockholm University and was its Director from its establishment in 2006. It was there where she was actively engaged in research on porous materials for over ten years. At the present she is still involved in materials research, however right now most of her research is about proteins and protein crystals – the small building blocks that exist in all life. This does not mean that she completely changed course; this is still about developing methods to depict three-dimensional structures of extremely small objects. Previously, her focus was on inorganic material, but now it's on biological molecules.
"I'm very curious about how the atoms sit in a structure. My contribution in this field of science is to develop new methods for imaging 3D structures using electron microscopy. The functions and properties of a molecule or a material are related to the structure, and in order to be able to have knowledge about the structure we need new methods to study it," stresses Xiaodong Zou.
Research is about solving problems
Looking at proteins was a dream Xiaodong Zou already had as a doctoral student, and now this dream has come true. With the help of two new major grants, as the recipient of the Swedish Research Council's Distinguished Professor Grant and as a Wallenberg Scholar, she will be working on protein structures and methods for looking at proteins in 3D in the coming decade. The method she will be developing is referred to as "micro-electron diffraction," or MicroED. The objective is for the technology to become fast and easily accessible to many researchers.
"My research in its entirety is about solving problems. I carefully listen to other researchers, hear about the problems and obstacles they are facing, and what we can contribute here. So far we have solved many problems in materials research therefore now I want to move on to life science. My hope is that over the next ten years I will be able to build up methods that many others can use," she stresses.
Childhood in China
Xiaodong Zou grew up in an academic family in Changsha, the capital of Hunan Province in south-central China. Her mother and father worked in the field of metallurgy. But at that time, all families living in the city had to send at least one of their children to the countryside to be retrained as a farmer. Xiaodong Zou accepted this was determined to be her future, and began to learn vegetables were grown. But then China changed course and it became possible to take entrance exams to study at university. Lucky she did well on the examination and as a 16-year-old moved to Beijing University to pursuer a course if studies and has not left the academic community since then.
After her completing doctoral studies in Stockholm, she moved with her new family to Lund to take up a position as a postdoc. Her husband, who formerly was her academic supervisor, was on parental leave with their four-month-old son David so she would be able to work. The couple has continued to research together, and although none of their three children have chosen to become a chemist, they have nevertheless contributed each in their own way. When their youngest son Linus was 10 years old, he participated in solving an advanced mathematical problem and became the youngest ever male co-author of a scientific article.
"It was a structural problem in the field of quasiperiodic crystals. At that time, the methods were not so advanced, you could not get by and conduct your research with only technical equipment, as one can today; you needed to be able to analyse. Our son Linus helped us see the connection and put the puzzle together. Afterwards, several colleagues wondered if he might be able to help them too," smiles Xiaodong Zou, laughing.
Now he studying at KI to be a medical doctor; it's really very important that one is able to do what they themselves like to do.
Attract more young people to become chemists
How we attract more young people to become chemists and attract new students is a challenge for the society and for institutions of higher education. Xiaodong Zou hopes that more people will stop being afraid of chemistry.
"Many people say that chemistry is very, very difficult when I tell them what I work with. However I don't think it needs to be so difficult, if only one understands the larger perspective. Perhaps the teaching methods need to be modernised? Chemistry is so very important. Now that everyone and everything is focused on the coronavirus pandemic and we are mixing 'hand alcohol,' alcohol-based hand sanitizer – that's chemistry. Studying the virus and how various molecules can interact with it, for the purpose of focusing on developing vaccines is also chemistry. Many people associate chemicals with something toxic or poisonous, however actually it is via chemistry that we can solve many environmental problems. Working with energy, the environment, and health are the fundamental foundations of our Department," she notes.
Stockholm University has a very prominent international role in chemistry and Xiaodong Zou and her research team are world leaders for structural analysis in the field of materials science and engineering including inorganic open-framework materials. The ambition is to become a leader in the field of life science as well. However Xiaodong Zou has not formulated any major long-term goal for herself.
"I am not a visionary in that way; I am goal-oriented and attempt to identify challenges in research and see if I can contribute and if so, with what. Then I go forwards. I'm a finisher, I want to finish things. My present ambition is that I can make a contribution in the field of protein research which in the long term can lead to new medicine and a greater understanding of various biochemical processes."
Xiaodong Zou
Position: Professor of Structural Chemistry at the Department of Materials and Environmental Chemistry.
Family: Three children and a husband. Actually, I've even become a grandmother recently! Parents and a brother living in China.
Hobbies: I don't actually have much free time, but I actually sing in a Chinese choir. I have been singing in a choir for over 30 years, first in a student choir and now in a Chinese choir. It's really a lot of fun.
Text: Anna-Karin Landin
Last updated: May 26, 2020
Page editor: Lina Enell
Source: Office of Science

Science news published by Stockholm University