Supervisors to summer school for high school students needed
Are you a PhD student at the Faculty of Science? Do you want to supervise a group of high school students? Then this is something for you!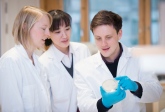 The summer school is a highly appreciated project for second year high school students. We are currently looking for supervisors to this years summer school that is running 8-18th of June.
126 high school students from the Stockholm region attend every year in different research areas within the Faculty of Science.
As a supervisor you are to:
design a 2 week lab project (about 60% of this period is assigned to the lab project). The project is to deal with something that concerns your own research focus.

supervise a group of 6 to 10 high school students.

be actively teaching 8-18th of June in the lab. (KÖL can be booked for your group if needed.)

correct the students report until Nov 30th.

get a 9700 SEK payment.

ca 1000 SEK reimbursed for consumables to your group/department.

check with your Principal investigator that it is OK for them that you sign up as a supervisor.

You don´t have to be fluent in Swedish but if you cannot read swedish we need to add on someone in your vicinity that can correct the written reports.
Contact
If you want more information before deciding, please contact Agneta Norén, agneta.noren@dbb.su.se, project leader for the summer school.
For more info about the summer school see:
https://www.youtube.com/watch?v=Z81tsx255k0
https://www.youtube.com/watch?v=Z8r61PRKqTE
In total we enroll ca 30 schools for the 126 positions every year. It is a popular summer school with 750-825 applicants for these 126 slots.
Last updated: January 27, 2020
Page editor: Lina Enell
Source: Faculty of Science

Science news published by Stockholm University