Welcome to the Gordon Goodman Memorial Lecture 2018
The Royal Swedish Academy of Sciences, Stockholm University and the Stockholm Environment Institute (SEI) are proud to present the Gordon Goodman Memorial Lecture 2018 to be delivered on 25 September by Camille Parmesan.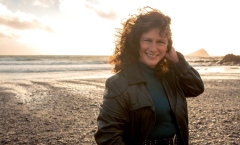 Camille is a Professor at School of Biological Sciences at Plymouth University in Plymouth, UK and has been ranked the second most highly cited author in the field of climate change for the decade 1999-2009 by Thomson Reuters "Essential Science Indicators". She is also an Adjunct Professor at the Department of Geological Sciences – University of Texas in Austin, Texas, USA. She is soon to join the CNRS Ecology Center in Moulis, France, as part of President Macron's Make Our Planet Great Again program.

Camille's research focuses on the impacts of climate change on wild plants and animals. Early work detailed behavioral, ecological and evolutionary aspects of insect/plant interactions. For the past 25 years, her focus has shifted towards biological impacts of anthropogenic climate change in natural systems. This research spans from detailed field-based work on individual butterfly species and communities to synthetic analyses of global impacts on a broad range of plants and animals across terrestrial and marine biomes.

Programme:
13.30 Welcome and introduction
Göran K Hansson, Secretary General, The Royal Swedish Academy of Sciences
Astrid Söderbergh Widding, Vice Chancellor, Stockholm University (TBC)
Åsa Persson, Research Director, Stockholm Environment Institute
13.50 Memorial Lecture
The Spectre of Conservation in a Time of Rapid Change
Camille Parmesan, Professor at School of Biological Sciences at Plymouth University in Plymouth, UK and Adjunct Professor at the Department of Geological Sciences – University of Texas in Austin, Texas, USA
14.30 Scientific discussion
Camille Parmesan
Respondents:
Alexandre Antonelli, Professor at the Department of Biological and Environmental Sciences, University of Gothenburg
Lisen Schultz, Research Fellow and Deputy Science Director, Stockholm Resilience Centre, Stockholms University
Moderator: Fredrik Moberg, Communications Advisor, Stockholm Resilience Centre, Stockholms University
15.15 Coffee break
15.45 Panel discussion
Camille Parmesan
Mark Marissink, PhD. Deputy Directior Environmental Analysis Department, Swedish Environmental Protection Agency, and Head of Swedish delegation to IPBES
Rebecka Le Moine, conservation biologist, voted Environmental hero 2017 and parliamentary candidate for the Swedish Green party
Louise König, Senior Sustainability Consultant, previous Sustainability Director and Key Opinion Leader for several large Swedish retailers, the food sector amongst others
Moderator: Toby Gardner, Senior Research Fellow, Stockholm Environment Institute
16.45 Concluding remarks
Toby Gardner, SEI
17.00 Mingle and refreshments

Event contact: Anneli Sundin, anneli.sundin@sei.org
Last updated: September 25, 2018
Page editor: Per Nordström
Source: Per Nordström

Science news published by Stockholm University