Report from the Task group on effects of the Covid-19 pandemic on the quality of PhD education
The faculty's PhD student council (NFR) suggested in the spring of 2020 that a task group should be formed to investigate the effects of the pandemic on the PhD education. The decision to do so was taken by the Dean under delegation from Områdesnämnden, and formalized at its meeting June 23, 2020.
The assignment for the task group was to survey how the Covid-19 pandemic has affected the PhD education, and thereafter highlight problems to be addressed as well as examples of how PhD education of high quality can be carried out even under this and future pandemics. The assignment was to be reported no later than November 3, 2020. An extension to latest November 12 was however sought and granted.
Professor Sören Nylin, chair of Forskarutbildningsberedningen (FB), was to act as convener for the task group. The other members of the group was Professor Barbara Wohlfarth, Professor Per-Erik Tegnér, Professor Pher Andersson, Victor Karlström (vice chair of NFR) and four PhD student representatives, one from each section. These were appointed by Studentkåren to be: Alexander Pietrow, Kanwal Tariq and Josefine Axelsson.

The group has met for three Zoom meetings, August 12, September 15 and November 4, but has also interacted substantially over e-mail. The primary focus has been on designing a survey to the PhD students, but we also identified a need for a form regarding the effects of the pandemic to be used in connection with the follow-up of the Individual Study Plan (ISP). Drafts of this form was circulated also to FB and the faculty's executive committee (Arbetsutskottet, AU) for comments which influenced the final result.
The survey was delayed due to technical problems, and the results were not available until October 26. For this reason our report is somewhat provisional, and analysis of the results of the survey will have to be continued, e.g. by FB and NFR. Our recommendations at this point are also to be seen as provisional, and act as a starting point for further discussion.
The President of Stockholm University decided June 18 to give a task to the respective boards of the two academic areas to in connection with the yearly follow-ups of the individual study plans in particular consider the effects of the pandemic for each individual PhD student. We discussed how it could be ensured that this was done, and determined that an ISP attachment form specifically for this purpose would be helpful. The final version of the form is attached to this report. It was the view of the task group that the attachment could well be made obligatory, but after discussion with FB and AU it was determined that it should only be made available as a resource, and that it was up to the departments to determine the precise forms for how they ensured that effects of the pandemic were considered at the follow-up meetings. In individual cases when the effects are relatively small it may well be enough to comment on them – and any changes in the plans because of them – in the ordinary ISP form. When more space is needed to elaborate the specific ISP attachment form can be used, and it can potentially also be used as documentation in cases when extension of study time due to "special circumstances" is sought.
It should be noted that the central PhD student council at the university (CDR) has designed an ISP attachment of their own for the same purpose. This form however has a clear focus on documenting cases of strong negative effects, whereas the form developed by the task group is more open in this respect and can be used for all PhD students if desired.
It is the opinion of the task group that all PhD students should have the option to hand in any of these forms to the department, either in connection with the follow-up meetings or separately, independently of their supervisors.
The survey was sent out to PhD students who were active in the spring of 2020, in total 651 potential respondents. The survey was anonymous. Only the faculty's education leader will have access to the full results, and make decisions regarding which sub-divided results can be made available without compromising anonymity.
We received 347 answers, an answer frequency of 53,3%. This is less than we would have hoped for (and expected) and introduces the possibility of some bias in the answers, where students who were not severely affected by the pandemic were less likely to answer.
Answers were equally divided between males (48,7%) and females (47,3%). We received answers from all departments and centra with PhD students within the academic area, from 3 (NORDITA) to 55 (Physics) answers - in some correspondence with the size of each PhD student community. For all except NORDITA we received enough answers so that it should be possible to report at least aggregated results while still preserving anonymity. This will be part of the further analysis. It will also be of interest to relate answers to whether the research project is mainly theoretical or practical, and to how far into the education the respondent is.
Some initial results:
It was also possible to comment on the answers to this question, and many did so (almost half of the respondents). The comments will be important for further analysis, as they reveal many of the underlying reasons for why the PhD student answered as they did, together with their answers to other questions.
Some representative examples (some details omitted to preserve anonymity): "Two missed field expeditions means I now do not have the data I need for three of my four papers"; "limited number of people allowed in the lab at the same time"; "I had a trip planned to visit a lab in Germany […] that had to be delayed by 6 months"; "the unexpected need to self-isolate for months […] hurt my productivity (and mental health) by a huge margin"; "I can't talk with other PhDs and postdocs as easily as before to discuss the things that I am doing and exchange ideas"; "I had to travel to […] and got stuck there because of the travel ban"; "We had to change the whole PhD, re-arranging projects, topics… We lost a lot of time that I won't get back"; "there are no office facilities in my student accommodation […] I constantly have back pain […] the internet at my accommodation is not as fast"; "Working from home with a husband […] and children […] is challenging and drastically slowed my work"; "I did not have much contact with my supervisor"; "Contact with collaborators fell apart"; "A mandatory course was postponed and interfered with the time for writing my thesis"; "I am in the last year of my PhD and have limited time to replan entire research papers".
Several comments, e.g. "It is hard to know at the moment how much [impact], so far a fieldwork campaign has been postponed but it may be completely cancelled or changed to something else. We are still deciding […]" highlight that this is still an ongoing situation for PhD students that are not finishing soon, and the impact and need for changes needs to be addressed also in future follow-ups of the ISP.
Although this question was (implicitly) aimed at capturing the negative impact of the pandemic, the comments are also a source for the examples of upholding quality in this difficult situation that was also part of the task group's assignment. For instance (note that some examples are taken from contexts where there is also a negative component): "I was lucky enough to have all my measurements taken, so I can perfectly work from home writing and doing data analysis"; "once I got used to it, it was pretty much OK"; "Much more access to interesting seminars and courses, since all went online"; "As a non-Swedish PhD student […] it was challenging for me being in my first PhD year being stuck in the lockdown for homeoffice in my […] hometown. My supervisor was well aware of this and took away mental stress"; "The technician we hired to do the lab work had to go back to the country she lives in. But I was hired by my supervisor instead to do the lab work"; "delayed lab work also occurred but we were able to plan around it"; "The work and concrete research can be dome from home and meetings can be held through Zoom"; "It was for the better. Suddenly it was accepted that we "only" work full time […] it's a great improvement that seminars are given digitally […] it's great that it's become more acceptable to work from home"; "the quality of the supervision has held the standard".

There were many comments also on this question, illustrating the reasons for the answers given, e.g.: "No lab-work, stuff is possible but takes longer"; "Depends on how the delays affect the end project, up to now No"; "A rather large project got cancelled […]. This has been replaced with an arbitrary project"; "I was quite far along fortunately, so I could take the hit".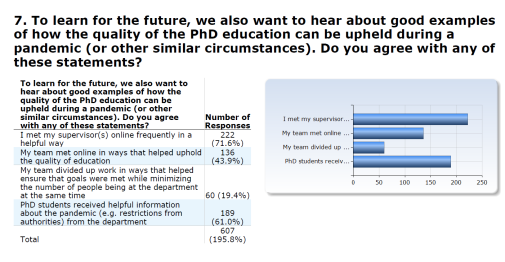 We also received many individual comments with positive examples regarding e.g. good experiences regarding teaching as well as taking courses online; supervisors showing much understanding and caring; departments being helpful with lending equipment for home work or allowing for purchase of such equipment; admirable efforts to keep standards up and progress the work; co-supervisors stepping in when main supervisors were not helpful; new collaborations with colleagues online that would probably not have happened otherwise; having outdoor meetings; online social activities.
However, many comments reflected a lack of such positive experiences and some highlighted how better communication and "pushing" from the departments regarding for instance the expectation of regular online supervision and team meetings, as well as more help with improving the home office, would have improved the situation considerably.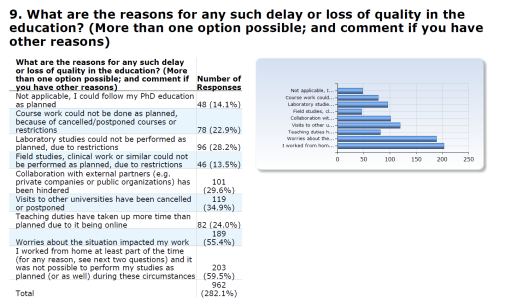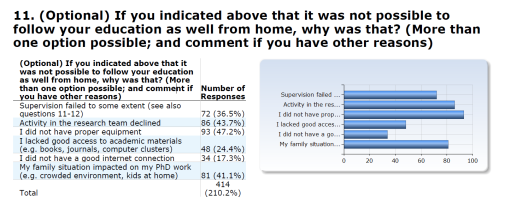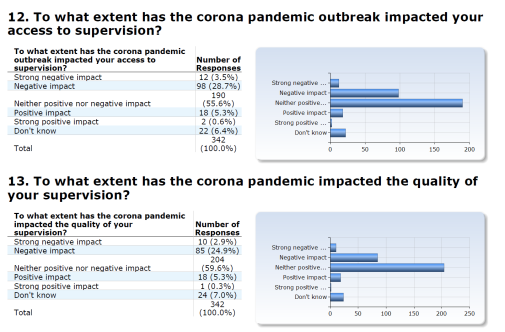 Several of the comments to other questions also indicated that non-Swedish PhD students were particularly negatively impacted by the pandemic, both for practical reasons such as worry about permits, worry about the situation in the home country (e.g. family) and because of the perceived clash between the general strategy in Sweden and their home countries contributing to their stress, for instance: "The problem is also that no real regulations (only recommendations) are enforced in Sweden. It is difficult to travel to other European universities if I come from Sweden, as I am not welcome from a country where no public mask protection is enforced"; "99% of universities worldwide recommend masks, SU does not. […] Working at SU does not feel safe"; "I really hope that this new reputation of Sweden (and its worst crisis management) and the fact that I will get a PhD from Sweden is not negatively affecting my career later on"; "I stress due to the situation in my home country". There were also those who were positively impacted: "Due to the home office I had the chance to stay more than usual with family and loved ones in my home country. Working from my home country heavily boosted my motivation instead of working from my small apartment."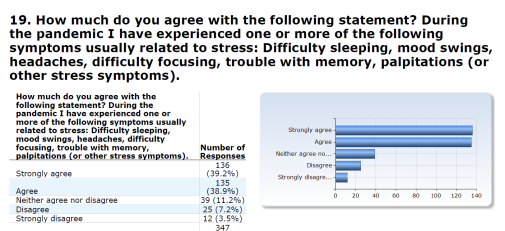 Extension of study time
The question of extension of study time due to the negative effects of the pandemic was much in focus when the task group started its work, but was not strongly reflected in the comments on the survey. Exceptions include: "Very little and late communication from SU on how delays would be handled in terms of extension of time"; "I wish I would qualify for an extension of 1-2 months".
The Dean has signaled that extensions of study time due to "special circumstances" could be a possibility in exceptional cases. As noted above, we designed the attached ISP form so that it could if desired be used as documentation to the Head of Department that could result in an application to the Dean for extensions. We reasoned that it would be good to have a common form so that different cases can be compared and students treated as equally and fairly as possible, at least within departments.
Recommendations from the task group
It must be ensured that the impact of the pandemic is considered at each individual follow-up of the individual study plan. Although this can take different forms, the ISP attachment developed by the task group is possible to use in all situations.
PhD students should have the opportunity to hand in this form (or the one developed by CDR) independently of the follow-up meetings if necessary, and independently of their supervisors.
Since the situation is still ongoing and the real consequences will not be known for some time, the impact should be discussed also at subsequent follow-up meetings.
It is clear that many supervisors and groups could uphold the quality of education by e.g. frequent online activities, but this was not always the case. An effort should be made at all levels of the university to further map out and identify which strategies were effective (or not), as a guide for future communication efforts.
Communication of what is expected from all parties is essential under a pandemic (or other societal crises impacting the PhD education). There is apparently room for improvement for the future when it comes to communication plans, so that clear and correct information and instructions flows all the way to PhD students, supervisors and other parties in the PhD education, at all departments.
If similar situations - when PhD students are expected or prefer to work from home - continue or arise again, departments should make all possible effort to help ensure that the students have proper equipment for home work. This could include lending or financing such equipment.
Besides delays/changes relative to the study plan, the students' vacation periods should be followed up by the departments, given that so many reported that the vacation had been negatively impacted by the pandemic. This is a warning sign for future stress/sick leave, along with the many reports of stress symptoms. It may not always be possible to rectify loss of effective vacation, since added vacation might also increase the stress by delaying the studies, but it is important to have a dialogue about this with the student.
It is of special importance in this situation that the available resources for student health are communicated to the PhD students.
Given that SU will not grant general extensions, it is important to find the cases where students have been strongly negatively impacted in a way that could not have been avoided, and where there are no possible work-arounds because of the nature and stage of the project. The granting of any extensions also should not be dependent on the supervisor's external funding, if necessary faculty funding should be used for this purpose, even under the present difficult economic circumstances for many departments.
It is also important to communicate to departments and PhD students that it is often possible to extend the time on a project even without a formal extension of study time, by giving the students the necessary resources and supervision for some time even when the four years of study time are up. It is in everybody's interest that all PhD projects are completed.
Finally, since the situation is still ongoing further follow-up of the impact on the quality of PhD education and what can be done to alleviate it will be needed in the future, and this should be an assignment for in particular Forskarutbildningsberedningen over the coming two-year period.
Sören Nylin (convenor), Victor Karlström (NFR), Barbara Wolfarth, Alexander Pietrow, Per-Erik Tegnér, Kanwal Tariq, Pher Andersson, Josefin Axelsson
Read more
How are the doctoral students faring in the wake of the pandemic?
Hur mår doktoranderna i pandemins spår?
Last updated: December 14, 2020
Page editor: Lina Enell
Source: Faculty of Science