Life as a student in Stockholm
Stockholm is the capital of Sweden and one of the most prominent academic centres in northern Europe. The city is made up of several islands and is surrounded by water. The water is so clean that you can actually swim in the middle of the city. In the summer the the sun never fully sets and people gather in open bars, restaurants and parks to enjoy the light and the temperate climate. In the wintertime it is often possible to ice skate in the middle of the city.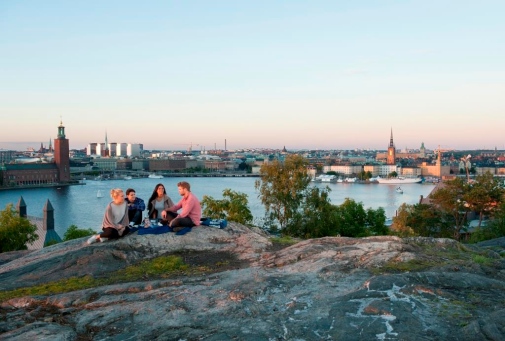 Stockholm offers higher education of the highest international standard at well renowned universities and university colleges, including prominent institutions such as Karolinska Institutet, KTH Royal Institute of Technology, Stockholm School of Economics, and Stockholm University.
Over the years, no less than twelve Nobel Prize Laureates have been active at these universities and university colleges, within the fields of physiology and medicine, physics, economics, and chemistry.
Here you can read more about Student life at Stockholm University
Residence Permit for Studies
Citizens of the EU/EEA have a right of residence and do not need a residence permit to study in Sweden. Citizens of countries outside the EU/EEA must apply for a residence permit to study in Sweden. As the application process can take several months, applicants are encouraged to apply in good time and make sure the application is complete. Residence permits are issued by the Migration Agency (Migrationsverket) and the university cannot help you with this process. When issuing a study related residence permit for admitted students from a non-EU/EEA country, the Migration Agency requires confirmation that you have paid the tuition fees for the first semester and can show that you have sufficient funds to cover living costs for the whole study period, which currently amount to at least SEK 8,010 per month.
More information on the Migration Agency's webpage
Scholarships and funding
Students from countries outside the EU/EEA are required to pay tuition fees. Fees can vary between study programmes so make sure you check the exact cost for the programme of your choice either in our web catalogue or at universityadmissions.se before applying.
Link to information on Stockholm University´s webpage
Scholarship programmes are available for international students who wish to study in Sweden. There are two major scholarship programmes that you may apply for: scholarships offered by Stockholm University and scholarships offered by the Swedish Institute. Find out which scholarships you are eligible for.
Grants, scholarships and student loans for studies abroad may be available in your home country. Check with your school or university as well as with national programmes if available.
Accommodation
Students are responsible for finding their own accommodation and should do so prior to arrival. Only students who receive a scholarship offered by Stockholm University will be provided with housing through our Housing Office. Please note that finding accommodation in Stockholm can take time and we recommend all students to start looking for housing as early as possible. A good starting point is the university website.
Living costs
Quality of life in Stockholm is high and being the capital the general cost of living is slightly higher than in the rest of Sweden, as in other capitals of northern Europe. The cost of living depends heavily on your lifestyle but be prepared to pay a bit more for food, drinks, clothing and electronics. You are responsible for your own living costs, such as accommodation, public transportation, weekly groceries and study material. More information about the costs of living in Sweden
Getting to the campus
Public transport is easy to use and well developed in Stockholm. The university is well connected with its own metro station and local train station and is a stop on several city bus lines. Students can buy a Student Travel Card that gives a reduction on the cost of travel. With the Student Travel Card you may travel by commuter trains, metro, buses, and boats throughout the greater Stockholm area.
For more information on how to get to our campus
In cooperation with other universities in Stockholm, we offer an arrival service for international students for a few days at the beginner of the semester. Guides welcome students at Arlanda Airport and Skavsta Airport to help them find their way and free shuttles busses are offered to Stockholm city and you can also get off directly at our main campus at Frescati. For more information
Useful web sites
Below you will find more information about Stockholm and student life in Sweden.
su.se/study
Stockholm University's website for all international students
studyinsweden.se
The Swedish Institute's website on studying in Sweden
visitstockholm.com
Stockholm City's official website for travel and tourism information
visitsweden.com
Official website for travel and tourism information in Sweden
sweden.se
Official website with extensive information about Sweden and Swedish people.