Why study at Sweden's largest science faculty?
Scientific research includes everything from the study of the tiniest components of matter to discovery and analysis of interstellar phenomena. But there is more to it than research...
Combining studies in science with studies in languages, economics or even communication, could make your competences and profile more attractive on the labour market. Stockholm University offer students this possibility with its wide range of courses in the Social Sciences and the Humanities. Scientists and mathematicians are found in the most varied job position from financial analysts, investigators, authors, consultants, sales persons or project managers in many different fields. The wide range of courses offered, both in science and other areas as well as the opportunity to choose the direction best suited for you – with the additional possibility of later changing track, or supplementing you studies with a new topic – increase your chances of success on the job market.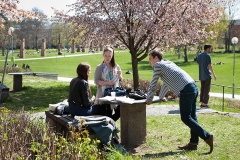 Scientists and mathematicians worldwide work with the future. It can be to make more reliable weather forecasts, develop new and better drugs, improve protections for the environment or create healthier food products. In an international survey of the employability of university graduates, Stockholm University ranked highest in Sweden, second in Scandinavia and 62 world wide. Read more about the 2016 Global University Employability Ranking
The faculty offer both programmes and courses on undergraduate and graduate level in english. The general level of english proficiency in Sweden is very high according to the English Proficiency Index. Sweden has been ranked in the top 5 since the index started six years ago and have been ranked as number one three times. In addition to the general english proficiency level, Stockholm University have an international teaching and research staff and long experience of giving courses in english.
Our courses are closely related to the current research carried out at the science faculty and a majority of our teaching staff are active researchers. See more information about our international Master's programmes.