Researchers help leaders transform their businesses into sustainability role models
Through its executive programme on resilience thinking, Stockholm Resilience Centre (SRC) offers CEOs and board members tailor-made support to accelerate transformation towards sustainability.
In 2017, the centre launched "Transformative business leadership for a prosperous planet" in collaboration with the Pontus Schultz Foundation. The programme is tailor-made for business leaders to better comprehend the megatrends shaping our planet and global economy.
Carefully selected CEOs and board members of influential companies meet scientists and thought leaders from SRC's network to deepen their understanding of sustainability science and help them accelerate the transformation towards sustainability.
"Our ambition was to create a world-class executive programme that connects science to action," says programme director Lisen Schultz.
Since 2017, interest in the programme has steadily grown. In 2019 there were more applicants than the course could take in.
Niklas Zennström, the founder of Skype, believes the programme has the quality and relevance for businesses to transform their activities:
"The sustainability transformation is just as radical as the digital transformation. What we urgently need is a shift in perception by the private sector to discover the opportunities of these transformations, rather than seeing them as threats. I am encouraged to see the ambition of this programme and how it can help the private sector transform towards such a mindset."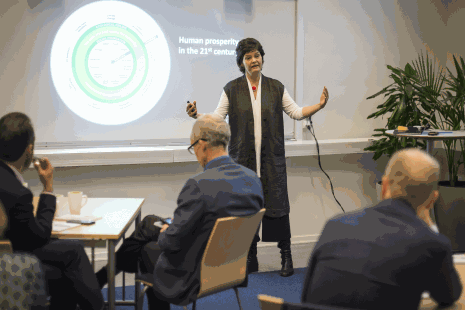 Senast uppdaterad: 28 april 2021
Webbredaktör: Per Nordström
Sidansvarig: Faculty of Science