A word from the Dean, June 2020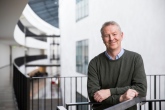 During the spring, this faculty, along with other faculties at Stockholm University, in the rest of the country and all over the world, has faced major challenges due to the Covid-19 pandemic. Since 18 March, teaching has been web-based and Stockholm University's premises are currently closed to students at first cycle and second cycle level. It is a little too early to say how the extremely fast transition to distance learning will turn out, but it is already evident that students, teachers and others who are supporting this form of education in various ways have done an amazing job! Joakim Edsjö, Chair of the Faculty's Undergraduate Education Committee, has been holding meetings every two weeks with the Faculty's Directors of Studies, which have enabled new issues relating to education that have arisen as the Covid-19 situation has changed to be dealt with in a good, effective way. I myself, Joakim Edsjö and Katariina Kiviniemi Birgersson, Head of our Faculty Office, are also members of what is known as the OM Group, an university-wide group that is dealing with operational challenges during the Covid-19 situation. This work has focused primarily on educational issues, as they have been the most urgent, while research activities have to some extent, at least initially, been somewhat easier to adapt. Quite soon after the shutdown in March, we, together with a number of other institions of higher education in Sweden, received questions from the media about how research was being affected. I then contacted a number of Heads of Department at the Faculty and replied that the impact so far – this was in April – had been limited, but that there might be difficulties if the crisis were to become prolonged. We are now approaching the middle of June and are seeing that research is also affected. Different types of data and sample collections, for example those requiring travel to other countries, have not been possible. Furthermore, experimental and other activities, including those carried out in our campus areas, have been affected in various ways by the fact that international partners have not been able to come here, by delays in supplies of equipment and materials, and by below-normal attendance levels at the university by employees and various support functions. The latter is, of course, an effect of following the requirements set out by the Public Health Agency of Sweden and working remotely when possible, which is of course good, but it does at the same time mean that there are fewer of those spontaneous meetings, where one can quickly get answers to questions or discuss how to proceed with a specific problem. From PhD students, we also hear that there have been fewer than usual contacts with supervisors, which is also a consequence of a reduced physical presence at the university.
Many PhD students are concerned about how their education is being affected by the Covid-19 situation. The faculty will be working together with PhD student representatives to take a closer look at this issue within a working group led by Sören Nylin, the Chair of the faculty committee for doctoral students. PhD students at the Faculty of Science are usually also employees, but to limit the risk of infection, PhD students' courses are also web-based. As employees, PhD students have formally been able to work on their research projects on site at the university, as long as these activities meet the recommendations of social distancing from the Public Health Agency of Sweden. These opportunities, may, however, have been limited for reasons mentioned above and by other circumstances. The departments are responsible for the next updates of the individual study plans, the so-called ISPs, and to see that any delays or other difficulties caused by the Covid-19 situation are dealt with in connection with these updates. It is important that this work is done on the department level and not only by the individual supervisors.
Since 4 May there has also been a possibility to apply for an exemption in order to carry out practical teaching on campus and elsewhere. Typical examples of this include laboratory sessions and fieldwork. The Board of Science has decided that applications for dispensation regarding teaching at first and second cycle level should be sent to, and processed by, the Chair of the Undergraduate Education Committee. Since then, the Public Health Agency of Sweden has issued new recommendations that allow some campus-based teaching as of 15 June. This means that other activities, such as seminars, group teaching and examinations, will also be possible on campus, on the condition that the Public Health Agency of Sweden's recommendations on social distancing and the maximum number of people in groups are observed. We will continue to apply the same procedure with written applications for exemptions until the beginning of the autumn term on 31 August. Stockholm University is drawing up plans for campus-based teaching and web-based teaching for the autumn term, and departments must inform students about their respective plans by 15 July at the latest. One basic condition in this context is that Stockholm University will not, as it looks now, permit lectures or other gatherings of more than 50 people during the autumn. It is usually the Head of Department who evaluates risk assessments for research related travel within Sweden. Orders for work-related travel abroad is, at the moment, not issued for SU employees, but here a new decision may be made soon as many countries open up for travellers from abroad.
Aside from the Covid-19 pandemic, both the Faculty and SU as a whole are facing additional major challenges. This applies not least to large upcoming raises in rental costs and how these will affect the part of our finances that is borne by the University's direct governmental funding for research and education. For a number of years, the departments have been asked to use up their saved governmental funding through time-limited initiatives. These activities are now under way, but at too high a rate for the Faculty as a whole. If this continues in the same way, in just a few years the Faculty will have used up all its saved government funds and more. At the same time, our Faculty has attracted a large number of external research grants – in 2019 the faculty spent SEK 1,000 million in external grants and had corresponding revenues. This was a significant increase in comparison to previous years. Unfortunately, there are now concerns here too, as the distribution of research grants from private foundations depends on the stock market. As one example, the Wallenberg Foundations have announced that they will not issue calls for KAW project grants in 2021. They do, however, intend to follow other planned calls through and fulfil already made commitments.
On 8 April, the President instructed the academic areas and the administration to take steps to balanced finances by 2023, which also includes managing a smaller level of saved governmental funds than today. The Faculty is required to report planned measures to reach this balance by 18 June 2020. The faculty leadership has held Zoom meetings with fifteen departments and four centres. These discussions, which have been both constructive and informative, related to finances and the possibilities to increase efficiencies and savings given the specific nature of each type of activity. The conditions are different in the different departments and centres, but the measures we see concern changes in the funding of PhD students and post-doctoral fellows, in some cases an adjustment of OH withdrawals on external grants and a continued reduction of premises. This brings major challenges, but at present student cohorts and the level of interest in education and science are on the increase. The tremendous importance of science and independent research has clearly been made visible in media and for the public during the Covid-19 crisis. The public and Society are highly interested in how the Covid-19 infection is to be limited, treated and prevented. This requires research, competence to do reseach and resources. At least in the long term, this should hopefully have an impact on the allocation of research funding to governmental research financiers and institutions of higher education. On the education side, the Faculty is receiving new resources to offer the foundation year in Science, to provide more summer courses and to further contribute to society's skills supply with a focus on occupations where there are shortages. At the same time, we face a continued challenge as a Faculty in meeting our educational commitment – we could see a slightly positive trend here for 2020 compared to 2019 before the introduction of Covid-19 restrictions.
Spring term 2020 has not really been like anything any of us have experienced before, but we now hope to be able to make a shift to life in its normal form with, among other things, the election of a new Board of Science in the fall. It will take time for the organisation to adapt and to return to more normal conditions, which of course may give rise to some uncertainty ahead of planning for the autumn term and for work in general this autumn. But before that, I hope all students, teachers and employees will have a relaxing and inspiring summer holiday.
Henrik
Last updated: September 29, 2020
Page editor: Lina Enell
Source: Faculty of Science

Science news published by Stockholm University