Antarctic expedition heading towards Queen Maud Land soon
Queen Maud Land is largely covered by the East Antarctic Ice Sheet. The ice is so thick that only the highest mountain peaks, so-called nunataks, protrude through the ice sheet.
The aim of MAGIC-DML (Mapping, Measuring and Modeling Antarctic Geomorphology and Ice Change, in Dronning Maud Land) is to reconstruct the glacial history of the ice sheet, specifically how its thickness and dynamics have varied over time. By collecting and determining the age of rock samples at different heights on the nunataks, numerical models of the ice sheet changes can be tested and improved. The models help the researchers understand how the ice sheet is affected by climate change, both historically and in the future. In essence, we are using the nunataks as 'dip-sticks' to study how the ice sheet has thinned in response to changes in the climate.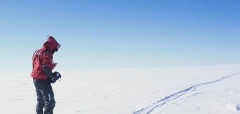 Joining the expedition from Stockholm university is Professor Arjen Stroeven from the Department of Physical Geography, and PhD student Jennifer Newall and PhD Robin Blomdin.
Last updated: December 7, 2017
Page editor: Per Nordström
Source: Per Nordström

Science news published by Stockholm University