Artificial enzyme makes fuel from water
An entirely new method of producing hydrogen gas from water has been developed by a research team that includes researchers from Stockholm University. This unique method could eventually make us less dependent on coal and oil.
The discovery was published on 26 June 2013 in the reputable science journal Nature by Swedish researcher Gustav Berggren, currently active at the Department of Biochemistry and Biophysics.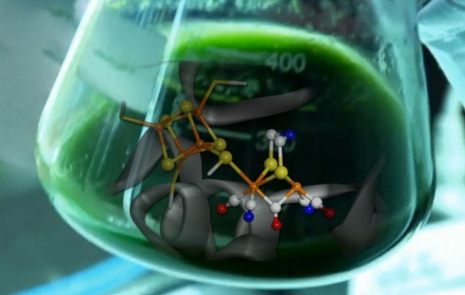 Artist's rendering of the [FeFe] hydrogenase active site, assembled in a laboratory before being inserted into the enzyme which originates from green algae (iron, sulphur, nitrogen, carbon, and oxygen atoms are represented by orange, yellow, blue, white, and red spheres, respectively). © Copyright is MPI CEC - Max–Planck-Institut für Chemische Energiekonversion. Illustration: Birgit Deckers


Decreasing our dependence on coal and oil by developing new fuels has been a hot research area for many years. A primary focus of researchers has been to produce hydrogen gas from water. Today, we depend on the precious metal platinum for producing hydrogen gas, which does not allow for large-scale production. The new method combines natural enzymes and synthetic catalysts to produce the high-energy hydrogen gas molecule.
"We are currently manufacturing fuel cells where our artificial enzyme replaces platinum, and we are also trying to improve the artificial enzyme further by modifying the synthetic catalysts", says Gustav Berggren. "If we succeed in doing this, we will be able to produce fuel cells based entirely on organic substances and iron ions, which, in turn, will allow for production on a completely different scale than today's fuel cells, which require the rare and expensive metal platinum.
A simple and revolutionary method
Hydrogen gas is a natural part of metabolism for many green algae and bacteria. The enzymes responsible for the production and combustion of the high-energy hydrogen gas are called hydrogenases. Thanks to their extremely high capacity, hydrogenases have long been a target enzyme for researchers working on renewable energy. Because hydrogenases are difficult to produce, they have previously only been used in small-scale laboratory tests.
Even if bacteria can be forced to produce the enzymes on a large scale, they will only produce inactive forms of the enzymes which are no longer capable of producing hydrogen gas. The researchers produced an artificial enzyme that is just as active as the natural hydrogenase enzymes by combining the inactive enzyme with synthetic catalysts.
"This 'artificial' activation of the hydrogenase enzyme opens up great opportunities in basic research, as it enables us to study the protein's effect on our synthetic catalysts. At the same time, our new method drastically simplifies the use of the hydrogenase enzyme on a larger scale in any industrial applications", says Gustav Berggren.
The study, titled "Biomimetic assembly and activation of [FeFe]-hydrogenases", was published in Nature (26 June 2013) and is a collaboration between researchers from France, Germany and Sweden, among others.
For more information
Gustav Berggren, doctor of molecular biomimetics, Department of Biochemistry and Biophysics, Stockholm University, telephone 073-633 26 98, e-mail gustav.berggren@dbb.su.se
Marc Fontecave, professor of chemistry in biological processes, Collége de France, Paris, France. E-mail: marc.fontecave@cea.fr
Last updated: March 11, 2021
Page editor: Per Nordström
Source: Per Nordström

Science news published by Stockholm University