Stockholm University Young Faculty
About The Young Faculty Organization
The Stockholm University Young Faculty (SU-YF) organization has been established on February 1st 2018, and now it represents more than 500 members of postdoctoral fellows, researchers, senior researchers, assistant professors and young faculty members. The SU-YF aims to promote transparency, provide information and support all members for their career advancement. The mission of the SU-YF is to promote diversity and innovation across the campus, not only through interdisciplinary research activities at SU but also through enhancing the interpersonal skills of the SU-YF members so that they can navigate their career between academia and industry. The SU-YF will also provide a comprehensive program to facilitate the social interaction among the young academic members at Stockholm University and other sectors, towards the goal of building a strong community that can benefit from the exchange of knowledge, culture and experience. The SU-YF organization has recently joined the National Junior Faculty (NJF).
The SU-YF Leadership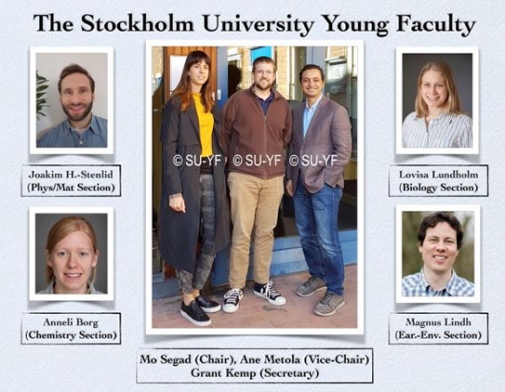 The SU-YF leadership consists of the chair (Mo Segad), the vice-chair (Ane Metola) and the secretary (Grant Kemp) as well as four section representatives for biology (Lovisa Lundholm), physics and mathematics (Joakim Halldin Stenlid), chemistry (Anneli Borg) and earth and environmental sciences (Magnus Lindh).
Join the SU-YF
The membership is free of charge and you are more than welcome to join if you are a postdoc, guest researcher, researcher, senior researcher, assistant professor or a young faculty member at Stockholm University.
To become a member, please send an e-mail with title "New Member SU-YF" to YF@su.se.
You are welcome to contact the SU-YF directly via e-mail, YF@su.se, with any questions, concerns, or ideas you may have.
The SU-YF twitter account is @SUYF19 so feel free to follow us.
The the National Junior Faculty (NJF) webpage.
News/Events

20181016 SUYF Role (109 Kb)

Steering committee meeting minutes 2018-03-26 (138 Kb)

Steering committee meeting minutes 2018-02-01 (149 Kb)

Next steering committee meeting at 2018-03-26 (agenda) (31 Kb)
Last updated: December 3, 2018
Page editor: Lina Enell
Source: Faculty of Science